Dabekausen exclusief importeur SPEARHEAD machines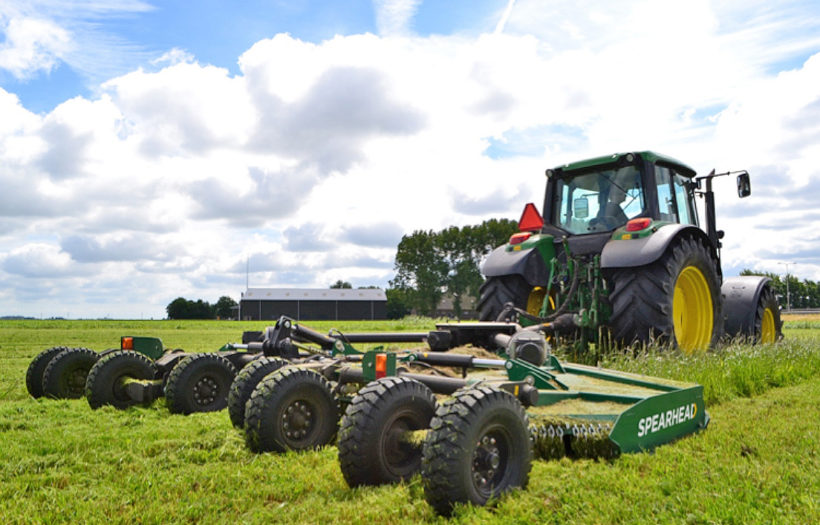 This article is also available in:

English

Deutsch
Onder het motto "Oplossingen voor probleemloos landschapsonderhoud" biedt Dabekausen reeds tientallen jaren machines, onderdelen en service voor het onderhoud van de agrarische en gemeentelijke groene ruimte. Nu breidt het bedrijf haar toch aal uitgebreide portfolio van machines en diensten uit met de toonaangevende rotary- en klepelmaaiers van Spearhead.
Importeur voor Nederland, België en Duitsland
Vanaf heden neemt Dabekausen voor Nederland, België en Duitsland de verkoop en service over van de Engels specialistische machinefabrikant Spearhead Machinery Ltd. Spearhead is een van de toonaangevende fabrikanten van klepel- en rotarymaaiers in Europa en levert haar producten over de hele wereld. Het productportfolio omvat compacte mulchers voor bijvoorbeeld gemeentelijk gebruik, speciale bosbouwmaaiers, maaimachines voor sportveldbeheer en hoogwaardige rotarymaaiers met werkbreedtes tot meer dan 12 meter.
Rotarymaaiers voor grote oppervlakten
Jeroen Huijsmans, algemeen directeur bij Dabekausen: "We kijken uit naar de samenwerking met Spearhead. Het bedrijf is een van 's werelds meest professionele leveranciers van maaitechnologie. Door deze samenwerking zien we talrijke synergiën, want het assortiment van Spearhead vult ons portfolio perfect aan. Met de grote rotary- en klepelmaaiers bieden we vanaf nu nog efficiëntere en duurzamere oplossingen voor landbouwbedrijven, luchthavens en gemeentelijke of militaire gebieden."
Verkoop en service
Antony Prince, directeur Sales & Marketing bij Spearhead, vult hem aan: "Met Dabekausen breiden we onze verkoopactiviteiten in Nederland, België en Duitsland uit en kunnen we er voor zorgen dat het merk vertegenwoordigd wordt door een deskundig verkoopteam, maar vooral ook met de back-up van een bijbehorende service-afdeling. Door de samenwerking met Dabekausen creëren we een goede basis voor verdere uitbreiding van onze klantenkring in deze landen, want we zien een toenemende behoefte aan efficiënt maaien."
Dabekausen wordt hiermee de algemene importeur en verantwoordelijk voor alle verkoopactiviteiten in Nederland, België en Duitsland.
Vraag nu naar de mogelijkheden of kijk op www.dabekausen.com voor meer informatie.
Perscontact | Jeroen Huijsmans
T: 0031 475 48 70 21 | E: jhuijsmans@dabekausen.com