Spearhead's Twiga Compact series reach mower incorporates the same robust technology as larger models in the Spearhead range to bring enhanced levels of durability and reliability in a compact package.
An industrial grade reach mower, the Twiga Compact series can be fitted with a multitude of attachments, providing flexibility in operations and increasing utilisation in key applications such as local amenity and grounds maintenance contracts.
Available with sideways reach options of 3.2, 3.6, 4.2 and 4.6 metres and a choice of front or rear mounting, the Twiga Compact series is specified with a potent 35hp hydraulic system that provides exceptional output.
Cable controls are as standard on all models, but with the option to upgrade to  Minipilot electric proportional controls to give fingertip action of the arm and head movements and are easily fitted within the close confines of compact tractor cabs.
As with larger models in the Spearhead range the Twiga Compact features a fully independent hydraulic system providing the optimum flow of oil to arm control functions and the flailhead drive motor.
Parallel arm action as standard makes the Twiga Compact simple to use as the arm geometry maintains the same cutting head angle as it moves in and out.
Safety protection is offered in the form of a hydraulic break out ram fitted within the machines dipper arm. When activated this feature lifts the cutting head clear of obstructions and automatically returns it once the obstruction has been cleared.
Launched in 2017, the  Twiga Compact S36 and S46 models have seen improvements to the reach arm with an added offset pivot position which allows the operator to work in tighter, higher spaces giving more manoeuvrability. Another notable new feature is the fold flat arm position bringing the machine over for a lower point of clearance to improve visibility.  Optional front or rear mount is available on both the S36 and S46 models.
3.2, 3.6, 4.2 and 4.6 metre reach options
25hp minimum tractor requirement
Three point linkage or DIN plate mounting
Parallel arm geometry
Fully independent hydraulic system
60 litre oil capacity
Hydraulic safety breakout
Low power requirement
Choice of control systems
Choice of cutting heads and attachments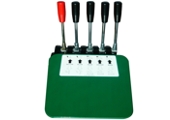 Cable Controls
Progressive cable controls provide both individual and simultaneous operation of the arm and attachment angling features of the machine at the comfort of the operator.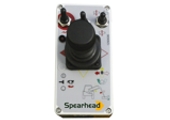 MINIPILOT electric proportional controls
The Mini Pilot control system offers electric proportional control of the lift, reach and angling functions by moving one small joystick. This option gives the driver a high specification, responsive operating system for compact in cab mounting.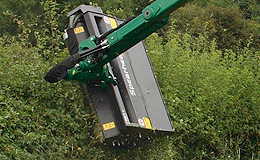 Flailhead
The TWIGA Compact is available with a 0.9 metre Flail cutting head with a choice of boot or back to back grass flails. The heavy duty design is power matched to the high specification base unit and features the Spearhead Double Spiral Cut Rotor.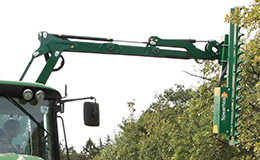 Cutterbar
The TWIGA Compact can also be fitted with the HL150, HL180 or HL210 cutterbar. Offered in a length to suit your individual requirements and capable of cutting material up to 40mm in diameter, the HL cutterbar range is ideal when trimming back annual growth.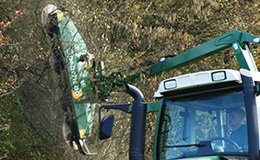 Quadsaw
The famous Spearhead LRS 2001 Quadsaw now has a little brother in the form of the LRS 1601 QUADSAW. With a slimline design and a working width of 1.6 metres the LRS 1601 is ideal for mounting to the TWIGA Compact when dealing with timbers of up to 100mm in diameter.
Maximum reach:
3.20m (10ft 6in)
Transport width:
1.80m (5ft 11in)
Gear totally independent hydraulics:
Standard
3 point linkage mounting:
Standard
Right hand or left hand build option:
Optional
Tractor power required**:
25hp
Tractor weight required**:
1300kg
*Dependent on machine specification (including oil, excluding flailhead or attachment)
**Dependent on conditions
Maximum reach:
4.20m (13ft 9in)
Transport width:
1.80m (5ft 11in)
Gear totally independent hydraulics:
Standard
3 point linkage mounting:
Standard
Right hand or left hand build option:
Optional
Tractor power required**:
40hp
Tractor weight required**:
2000kg
*Dependent on machine specification (including oil, excluding flailhead or attachment)
**Dependent on conditions
Maximum reach:
3.60m (11ft 8in)
Transport width:
2.0m (6ft 6in)
Gear totally independent hydraulics:
Standard
3 point linkage mounting:
Standard
Right hand or left hand build option:
Optional
Front or rear mount option
Tractor power required**:
25hp
Tractor weight required**:
1300kg
*Dependent on machine specification (including oil, excluding flailhead or attachment)
**Dependent on conditions
Maximum reach:
4.60m (15ft 1in)
Transport width:
2.5m (8ft 2in)
Gear totally independent hydraulics:
Standard
3 point linkage mounting:
Standard
Right hand or left hand build option:
Optional
Front or rear mount option
Tractor power required**:
40hp
Tractor weight required**:
1300kg
*Dependent on machine specification (including oil, excluding flailhead or attachment)
**Dependent on conditions