Combining many years of hedgecutter design with the latest technology, Spearhead's best-selling, Twiga Mid series reach mower provides exceptional performance, reliability, durability and ease of operation.
Power is delivered by a potent 66hp fully independent hydraulic system favoured by the most demanding of cutting professionals.
The machine is available with sideways reach options of 5.5, 6.0, 6.5 and 7.0 metres with rear mounting as standard. The 5.5 and 6.0 metre options can be delivered with a forward reach arm set for improved visibility, whilst the 6.5 and 7.0 metre versions are both telescopic as standard.
Presented with the possibility to be fitted with a multitude of attachments and available with a quick attach coupling system for ease of exchange the Twiga Mid series is action packed with power and performance.
A choice of Precision Proportional, Multipilot and Propilot controls give a huge choice of operating systems which allow fingertip action of the arm and head movements to deliver precise control and exemplary operator comfort throughout the working day.
Parallel arm action is fitted as standard and makes the Twiga Mid series simple to use as the arm geometry maintains the same cutting head angle as it moves in and out.
Safety protection is offered in the form of a hydraulic break out ram which when activated lifts the cutting head clear of obstructions and automatically returns it once the obstruction has been cleared.
Designed for large scale farmers, contractors and local authorities – the Twiga Mid range offers, a host of customisation options, Spearhead's most advanced control systems and long term output, robustness and durability time honed and proven in conditions around the world.
5.5, 6.0, 6.5 and 7.0 metre reach options
90hp minimum tractor requirement
Three point linkage or axle bracket mounting
Parallel arm geometry
220 litre oil capacity
Hydraulic safety breakout
Fully independent 66hp hydraulic system
LED rear lighting kit
Choice of control systems
Choice of cutting heads and attachments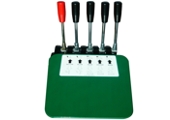 Cable Controls
Progressive cable controls provide both individual and simultaneous operation of the arm and attachment angling features of the machine at the comfort of the operator.

HP2 hydraulic proportional controls
The classic HP2 low pressure oil over oil hydraulic proportional control system is available as an option on the TWIGA 555. Ergonomically arranged for logical directional movement and based on technology used widely in the construction industry the HP2 offers simultaneous operation for all services in one convenient package.
Defined by a reliability proven through years of service on the Spearhead Range the HP2 system is the only single lever system you will ever need and will keep you working comfortably long after your competitors.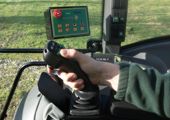 Pro Pilot hydraulic proportional controls
Pro Pilot sets a new standard for hydraulic/electric proportional reach mower control systems. A more compact package with additional remote mounting for specific operator placement allows the machine to be more suited to mounting in modern tractor cabs.
Benefitting from additional functions on the joystick including proportional head angling, power slew, Telescope/VFR, Autopilot Cancel and Head Float all allowing the operator to manage the machine without moving their hand away from the joystick.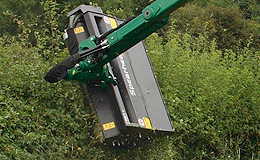 Flailhead
Standard with the new MP2 Flailhead used throughout the high specification Spearhead range, the TWIGA 500 benefits from contractors specification technology in a heavy duty farmers package. Build quality and engineering excellence are nothing more than what would be expected and it is now possible to benefit from this on your TWIGA 500 machine.
Featuring a 140mm T flail and 6 inch roller, maximum durability and increased cutting capacity is confirmed and not just expected.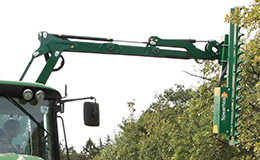 Cutterbar
The TWIGA 500 can be specified with the HL150, HL180 or HL210 cutterbar. Offered in a length to suit your individual requirements and capable of cutting material up to 40mm in diameter, the HL cutterbar range is ideal when trimming back annual growth.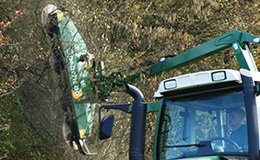 Quadsaw
With a working width of 2.1 metres the quality LRS 2001 Quadsaw is ideal for managing heavy growth and tree limbs of up to 150mm (6") diameter. Widely used throughout Europe the LRS2001 perfectly compliments your TWIGA machine, giving exceptional cutting capacity on even the most stubborn growth.

Maximum reach:
5.50m (18ft 1in)
Transport width:
2.60m (8ft 6in)
Oil tank capacity:
220ltr
Gear totally independent hydraulics:
Standard
3 point linkage mounting:
Standard
Right hand or left hand build option:
Optional
Rear lighting kit:
Standard
Tractor power required**:
90hp
Tractor weight required**:
3500kg
*Dependent on machine specification (including oil, excluding flailhead or attachment)
**Dependent on conditions
Maximum reach:
6.00m (19ft 8in)
Transport width:
2.60m (8ft 6in)
Oil tank capacity:
220ltr
Gear totally independent hydraulics:
Standard
3 point linkage mounting:
Standard
Right hand or left hand build option:
Optional
Rear lighting kit:
Standard
Tractor power required**:
95hp
Tractor weight required**:
3750kg
*Dependent on machine specification (including oil, excluding flailhead or attachment)
**Dependent on conditions
Maximum reach:
6.50m (21ft 4in)
Transport width:
2.60m (8ft 6in)
Oil tank capacity:
220ltr
Gear totally independent hydraulics:
Standard
3 point linkage mounting:
Standard
Right hand or left hand build option:
Optional
Rear lighting kit:
Standard
Tractor power required**:
100hp
Tractor weight required**:
4000kg
*Dependent on machine specification (including oil, excluding flailhead or attachment)
**Dependent on conditions
Maximum reach:
7.00m (23ft 0in)
Transport width:
2.60m (8ft 6in)
Oil tank capacity:
220ltr
Gear totally independent hydraulics:
Standard
3 point linkage mounting:
Standard
Right hand or left hand build option:
Optional
Rear lighting kit:
Standard
Tractor power required**:
110hp
Tractor weight required**:
4500kg
*Dependent on machine specification (including oil, excluding flailhead or attachment)
**Dependent on conditions