Spearhead's Flagship Stubble Master at Agritechnica 2017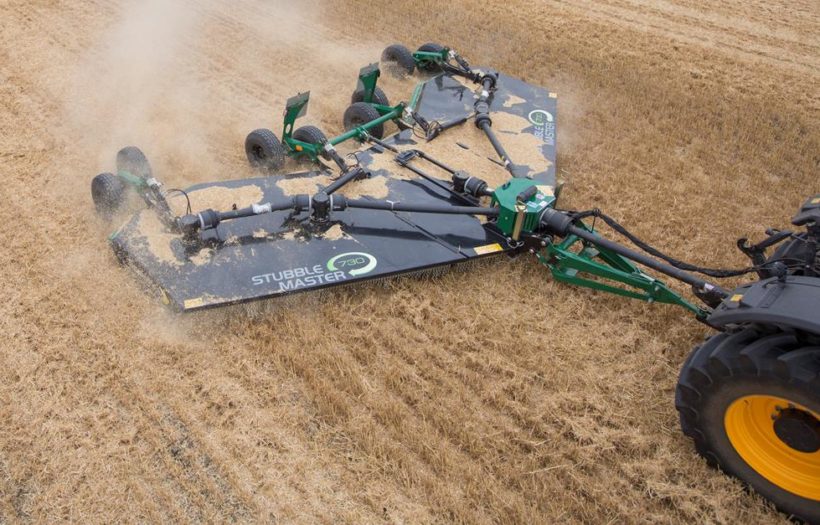 The 12th November signals the opening of the biggest global agricultural trade show – Agritechnica, which is held in Hanover, Germany every two years.
Spearhead Machinery will be represented alongside their Northern European distributor GreenTec A/S in Hall 26 stand F07, with a number of their best-selling and innovative Rotary Mower and Reach Arm products, including two models from their flagship ranges – the Stubble Master 730 and Multicut 460.
Stubble Master Series
Built on Spearhead's award winning rotary mower heritage, the Stubble Master Series delivers exceptional levels of quality, performance and durability to large scale farmers and contractors around the world.
The Stubble Master Series is manufactured in four widths (5m, 7.3m, 9.10m and 12.10m) to match common combine headers, and comes with a plethora of standard features to make this machine the ultimate in crop stubble management.
Spearhead's unique 6 blade cutting system is fitted with free swinging blades that have 'high lift' fins to lift crops into the cutting zone.   Contra-rotation of the rotors ensures a more evenly distributed mulch assisting with the organic break down of stubble residue to improve overall soil health and crop yields.
Multicut 460
Also on display will be Spearhead's global best-selling rotary mower, the Multicut 460.
Coming from a long line of rotary mowers spanning over 25 years, the Multicut 460 is renowned for its durability, reliability and performance making it the first choice of intensive users throughout the world where reliability is paramount.
Utilising the standard HD3 3-blade cutting system to give the cleanest of cuts and most even of spreads, the Multicut 460 is at home on all types of terrain meaning it's the perfect choice for farmers, military, airports and large plantations where performance counts.
TWIGA Reach Arms & Attachments         
Bringing together a mix of Reach Arms from across the range, Spearhead and GreenTec A/S will be demonstrating the versatility of the TWIGA range with a number of attachments including the ever-popular Quadsaw, which can handle branch diameters of up to 200mm (depending on model).
Visitor information can be found on the Agritechnica website by clicking here.  For more information on the Stubble Master, Multicut or Twiga series click here to visit Spearhead Machinery's website.