The Twiga SPV 2 series is the professionals choice in every application delivering ultimate versatility and distinctive quality. With a unique selection of seven different arm sets, optional engine horsepowers, selectable steering configurations and a host of attachments, the Twiga SPV 2 is delivered to meet your every demand.
Comfort
Inside your cabin you will find innovative features and options that benefit your operations, day in – day out.
Formed to meet the strict requirements necessary to meet ROPS compliance, the TWIGA SPV cabin has been developed through extensive testing against all round impacts. Comfort is ensured in the shape of a suspension seat and adjustable steering column with a standard Clima air conditioning system also included.
At your Fingertips
With ergonomics considered, the proportional multifunction joystick control for the operation of the main arm functions is built generously into your armrest. Developed with the operator in mind the all in one system provides precise but simple control.
Visibility
A large windscreen that extends from the top of the cab to the foot well directly in front of the driver allows vision in the widest of angles. With nothing in front of the cab in both transport and work positions, operation can be followed right up to the wheels.
Rotating Cabin
One of the main features of the TWIGA SPV 2 is the patented rotating cabin which allows ninety degrees of movement from transport to work position to ensure that best possible visibility is constantly maintained.
In transport position the operator looks directly over the front of the machine with the view point forward towards the road ahead.
In work position the cabin is rotated and the operator looks directly over the flailhead utilising the machine in a forward and back motion whilst being positioned to view the front and rear of the machine for safe operation.
Health and Safety
In the comfort of the rotating cabin you are always facing the working area promoting good posture without the necessity to move your body. After a solid days work the TWIGA SPV operator will still be fresh.
Stability
As a machine specifically designed to tackle vegetation maintenance work, and not a machine that someone just decided to attach an arm to, the TWIGA SPV 2 is perfectly balanced to provide ultimate stability when working at long reach.
Weight is evenly distributed across the machine, 50% to the front and 50% to the rear, ensuring that regulations are adhered to and stability is maintained.
Manoeuvrability
Three steering modes provide versatility in manoeuvring – front wheel steer, four wheel steer and crab steer are all standard and can be selected by a simple switch.
Power
With a reputation for delivering hard working, reliable and efficient engines, Spearhead specify a John Deere power unit to provide a potent delivery day after day.
Versatility
At the business end of your TWIGA SPV 2 you will find cutting edge equipment that provides you with versatility and options whilst helping to maximise the output achievable with your machine.
Fitted as standard with a 1.2 metre flailhead, the ultimate in reach mowing technology is backed up by the durability and cutting efficiency of a heavy duty attachment to further increase cutting prowess.
Rotator Unit
TWIGA SPV 2 output is boosted by the standard top mounted rotator unit offering 180 degrees of head rotation to allow cutting in both directions.
Compliment your Capabilities
Specify your machine with additional accessories to compliment your machines capabilities still further.
Add a front linkage and PTO unit to allow the mounting of your choice of attachments from a QHD Flail Unit to a Snow Plough or Road Brush. Further your versatility by including a barrier mower for high output roadside mowing and ultimately make your arm a jack of all trades by swapping the flailhead for a range of additions from finger cutters and tree shears, to mowing discs and the Spearhead QUADSAW.
Productivity
Output, output and more output – that is what is delivered by the TWIGA SPV 2, combining unrivalled comfort, enhanced visibility, controlled stability, agile manoeuvrability, extreme power, and distinctive versatility to provide you with the ultimate reach mowing machine.
The rotating cabin perfectly compliments the rotating flailhead allowing bi-directional cutting to take place at equal speeds, whilst the heavy duty flailhead ensures that any type of vegetation is aptly dealt with.
Electric proportional controls
140HP engine
Four wheel steer
Optimum visibility – 90 degree rotating cab
2.4 metre working width
3 different arm sets
Independent service pumps
Hydraulic brakes
Oscillating and steering rear axle
Rigid and steering front axle
27 degree steering angle
FOPS/ROPS
Air conditioning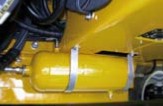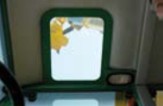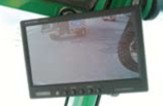 Camera with monitor for rear arm view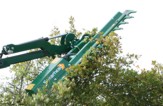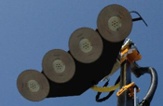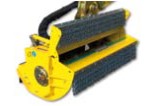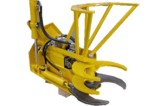 'Extra Tonk' pruning scissors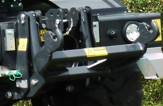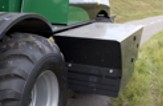 Hydraulic movable ballast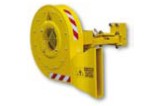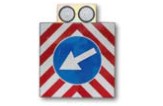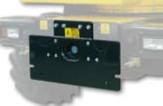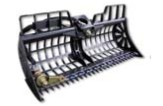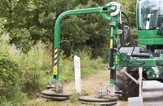 Engine
Motor:
John Deere PowerTech 4045 Turbo Common Rail
Movement hydraulic system
Pressure:
420 Bar Work Pressure / 480 Bar Maximum
Cutting head hydraulic system
Telescopic hydraulic system
Capacity:
80 l/min at 2000rpm
Service hydraulic system
Capacity:
80 l/min at 2400rpm
Electric system
Movement
Traction:
2/4 Tractor wheel
Alignment wheels:
Electronic
Transmission:
2 speed hydrostatic
Brakes
Brakes:
Hydraulic 6 disks oil bath
Axles
Front:
Oscillating / Steering
Block:
100% Rear / 45% Front (auto)
Steering angle:
27 degree
Tyres
On Request:
600/50 22.5 PR 18
Cabin
Air conditioning:
Fitted as standard
Test certification:
FOPS / ROPS
Machine weight
Machine Weight (empty):
8,000 – 10,500kg