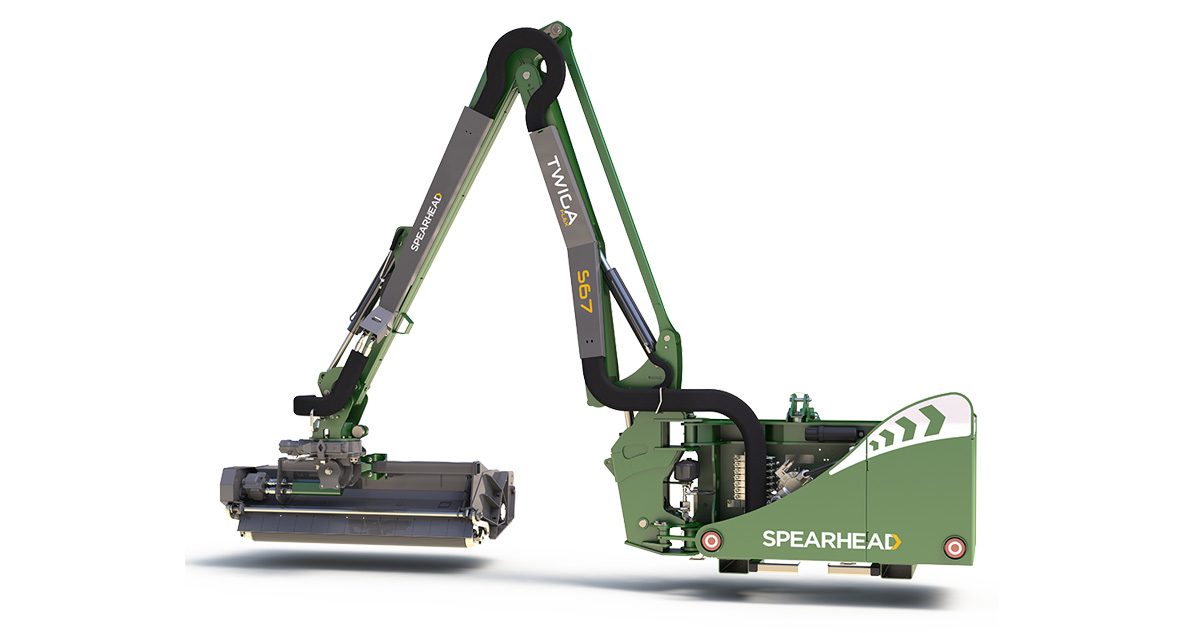 Overview

The Twiga Flex series is our most premium and high-output reach mower in the Spearhead range. Featuring an arm-set that can be shifted through 140 degrees, the Twiga Flex has the ability to cut in every positional degree to allow the operator ultimate visibility in their most favoured setting. Coupled with the visionary 'rotorflex' head rotation system the 70 cm offset slew pivot allows the arm to be bought alongside the tractor as far forward as, and in line with the front linkage if desired by the simple adjustment of the machines slewing column.
Available with standard sideways reach options of 6.7, 7.4, 8.0 and 8.9 metres, and a potent 80HP totally independent load sensing hydraulic system which provides huge cutting power to satisfy the most demanding of operators, whilst the standard parallel arm geometry adds to genuine functionality.
Propilot controls are fitted as standard delivering the best in reliability and comfort throughout the working day. Safety protection is offered in the form of a hydraulic break out ram which when activated lifts the cutting head clear of obstructions and automatically returns it once the obstruction has been cleared.
Right or left hand build option
Arm float kit
Debris blower kit
Autopilot
MP1 flailhead (1.2m/1.5m)
MP2 flilhead (1.2m)
PB flailhead (1.2m/1.6m)
HL/HX cutterbar
LRS quadsaw
RC rotary head
GT (heavy duty) rotary head