THE CRITICAL ROLE OF THE PARTS DEPARTMENT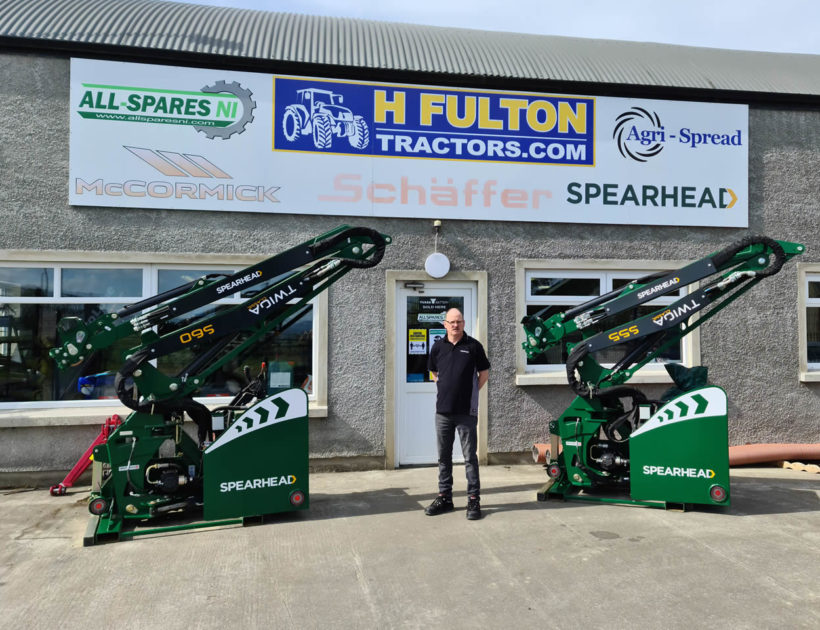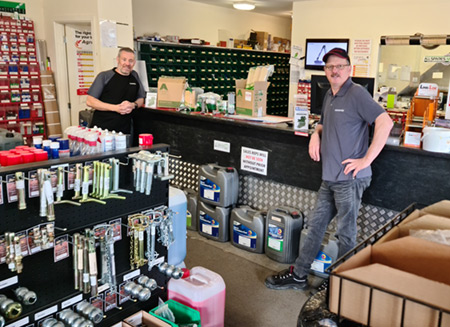 It's easy to focus on selling new machinery. That's certainly the first job for our dealer network. But given the long service life of Spearhead equipment, customers need a reliable partner for routine servicing and wearing parts. Flails, bearings and blades all need to be replaced at times, keeping your productivity high.
At Spearhead, we design our own wearing parts. They're created by the same specialist designers who develop our machinery. Our parts provision to you, however, depends heavily on the quality of our dealer network.
We caught up with parts managers in two different dealers to hear how they're working to keep Spearhead customers moving every single day.
Colin Clarke is the Parts Manager at Irelands Farm Machinery Ltd in Carrington, Lincolnshire, England. Meanwhile, Paul Brady is the Parts Manager at H. Fulton Tractors in Dungiven, County Londonderry, Northern Ireland.
TELL US ABOUT YOUR DEPARTMENT?
Colin: My branch broadly covers East Lincolnshire, along with two other branches. We're dealing with customers face-to-face daily, in addition to hearing from them by phone and email. We also work closely with our workshops, ensuring they have the parts they need quickly.
High moving parts are held in stock, but it's impossible to have everything. So, we're ordering on demand daily too.
Many of our customers have bought Spearhead machinery from us. We also look for customers that have second-hand machines and need our help.
Paul: Based in County Derry, we're the main Spearhead importer for the whole of Ireland. Customers are calling to enquire about parts for Spearhead and many other makes. Some will visit us as well. Every day we've got parts orders coming in and we're quick to get them out to our customers throughout Ireland, via courier.
Some customers call asking for mechanical advice. We can put mechanics on to them and if necessary, send out an emergency mechanic to deal with a total breakdown. We've got many diagnostic tools for different machines and all our departments work as a team to help customers as best we can.
HOW DO YOU HELP YOUR CUSTOMERS ONCE THEY'VE PURCHASED SPEARHEAD MACHINERY FROM YOU?
Colin: It's not just about selling a machine. We're selling the company to look after it too. The customer needs his machine to be working 100% of the time. It's about minimising downtime. That's how you get a good reputation as a dealer.
Say their machine breaks down at 12 noon today. If we haven't got the parts here, we aim to get them by the following morning. We want the machine fixed by tomorrow dinner time. And if we've got the part, we need to be out within a couple of hours to fix it, getting it running again by tea time.
If it's a contractor, they might be on a fixed price job. There might even be a penalty clause. We'll always find out what our customer does and what they need to make their life better.
Paul: Speed is so important. We're trying to resolve their problem as quick as we can. Within the same day if possible. If the part's in stock, we'll get it out to them that day. If not, we'll try and have it delivered next morning. I don't like leaving customers waiting. I like to get the problem sorted so I can move onto the next one.
I'll always call customers at the end of the day so that they know where they stand. Most days, I'm leaving here at 6pm or 7pm, but I'll always find time to call. Even if just to say I'll get back to them in the morning.
IS PREVENTION BETTER THAN CURE?
Colin: Definitely. Though some customers still struggle to see the benefit of paying for a service when the machine is working. Should it break down, they see it then! A check over might have stopped it happening.
We've got a mobile balancing service which is great for machinery like flail mowers and hedge cutters. We can go to them and balance the rotors, without taking them out of the machine. This makes things much faster. It might have simply been knocked out of balance, but it prevents further damage and longer downtime.
Paul: Oh yes. We've got two mechanics here and then we have many working out on the road that we can call on for particular knowledge. It's a big help to have people who know what they're doing. We also run a mobile balancing service which means we can fully support our hedge cutting customers throughout the country by either visiting them on site or having their cutting head back here.
WHAT CHALLENGES ARE YOU WORKING WITH WHEN IT COMES TO PARTS?
Colin: Speed is important to customers, so long lead times can be an issue. This is more for less common parts that we don't hold in stock. Then, for some manufacturers, the European summer break can be a problem if we need parts from Italy, for example.
Paul: Sometimes a customer will call asking for parts, but they won't know what make of tractor or machine they have. You try and nurture them the best you can and get as much information as possible. To be a good parts storeman, it helps to have a good farming background yourself and good mechanical knowledge. It really is useful to talk a farmers language.
WHAT'S YOUR OPINION OF NON-GENUINE PARTS?
Colin: The biggest knife in our side is non-genuine parts. Things like flails, belts and bearings can all be found cheaper, but they're not the same. Some people still don't see the value of a genuine part. The investment in R&D and testing to create it. They'll say the cheap copy does the same job. Well, we all know it doesn't.
We do have some Spearhead leaflets on the counter highlighting genuine parts. But manufacturers in general need to tell people why genuine is best. Why are your flails the best? Why will they last longer? What's the design process behind this particular part?
We wouldn't put non-genuine parts onto a machine.
Paul: Price can be an issue for some customers. For our used tractors, we do offer carefully chosen non-genuine parts. But that's never the case for brands like Spearhead. We supply 100% genuine parts for Spearhead.
Some customers have come in having bought a non-genuine filter elsewhere, for example. But it didn't stand up to the specifications of the machine. And it didn't run as it would on a genuine filter. So, they end up coming to us to buy a genuine part.
HOW WOULD YOU DESCRIBE YOUR RELATIONSHIP WITH SPEARHEAD?
Colin: If we need to talk to Spearhead, we can just pick up the phone. They're very accessible. At all levels, in fact; from the man in the field to the top. I've got a good relationship with Steven in parts, plus Jack Norton, my area representative. We can also speak to Antony [Director of Sales and Marketing] whenever we need to. As soon as you tell someone about a problem, they'll take responsibility for it and work hard to find a solution.
Paul: We have a great relationship with Spearhead. I couldn't ask more of the boys over there. They'll leave no stone unturned – I'd give them 200%. There's never been a situation they couldn't help me with, and they'll always get right back to you.
If a part's not in stock and has to be manufactured with a 10-day turn around, it'll be 10 days. I'll always be kept in the loop, which helps me keep my customers updated.