Product Support Engineer required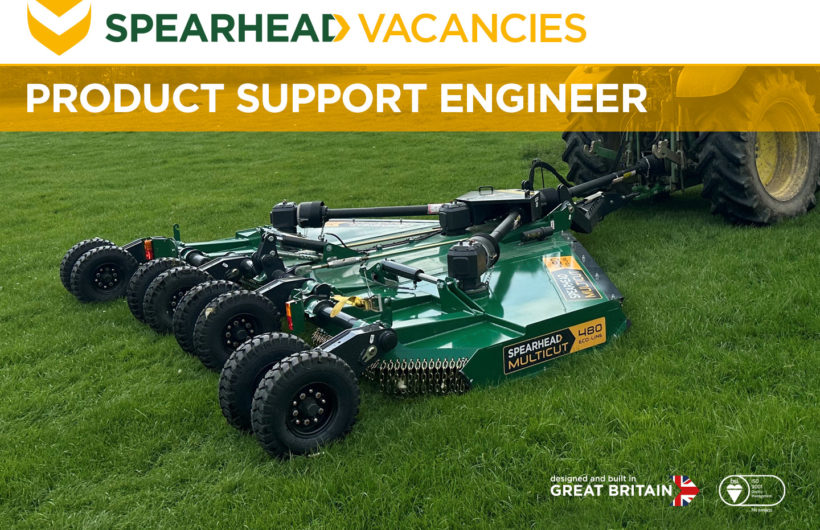 Product Support Engineer
Location: Evesham, Worcestershire
Salary: TBC dependent on experience
About the company:
Spearhead Machinery is Europe's leading manufacturer of large area rotary mowers, specialising in vegetation maintenance and stubble management technology. Traditional and core business is centred around the maintenance of green areas with a full range of reach, flail and rotary mowers within the product offering providing the most viable solutions wherever vegetation may grow.
The role of the Product Support Engineer:
The Product Support Engineer role is 'hands-on' and a real opportunity for someone with a positive 'can do' attitude to work together with our existing Engineering, Field Service, and Warranty departments to deal with technical related customer enquiries efficiently and successfully.
Based out of our Evesham headquarters you will enjoy a role specialised in delivering first class technical support to our Distributor and Dealer networks, that will also include a strong focus on technical training to improve and grow the capabilities and skill sets of our partners in respect of the Spearhead brand.
You will need to be somebody who is a strong team player with excellent communication skills, both written and verbal, with a keen attention to detail and an enthusiasm to grow.
Duties of the Product Support Engineer:
Provide first line telephone and email product support to our dealer and distributor network.
Support with remote fault finding, working in a logical and methodical manner.
Work closely with the Field Service Team to progress resolutions.
Feedback constructively and critically; areas for continuous improvement to Engineering.
Evaluate trends in warranty data to identify and address recurring issues.
Develop and deliver a professional customer technical training program.
Carry out targeted visits to new and existing end users, dealers and distributors as required ensuring positive and lasting relations.
Collect and report feedback from the market on product development, product satisfaction and competitive activity.
Contribute ideas on future product development based on documented experience.
Oversee improvements in the management of all aftersales business.
Realise monthly objectives by achieving specific KPI targets.
At all times comply with company policies, procedures, and instructions.
Requirements of the Product Support Engineer:
Good level of education
Experience in a similar role
Ideally have an agricultural, construction or grounds care machinery background
Excellent administrative skills particularly organisational/planning skills
Excellent communication skills both verbal and written.
Excellent IT skills, particularly MS Office
Flexibility as travel may be required.
If you meet the requirements and feel that this Product Support Engineer role is right for you then, please apply today to hr@alamoeur.com