Demos available for our new ILF ALPHA SPV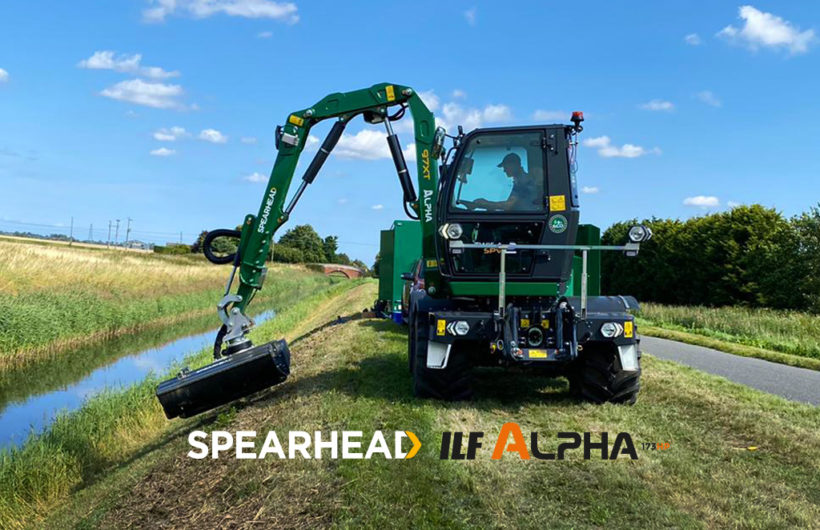 Book a personal demo of the amazing new Spearhead ILF ALPHA SPV
The new Spearhead ILF SPV Range has replaced the previously successful TWIGA Range of Self Propelled Vehicles.
For more than a decade Spearhead and Energreen have been working in partnership to bring the world's best Self Propelled Vehicle Reach Mowers to professional operators in the UK, Ireland and Australasia. Book your demo below!
A comprehensive range of SPVs
With six vehicles in the Spearhead Energreen SPV Range, we have the ultimate tool for all road and offroad maintenance area requirements, especially alongside roads and waterways.
Offering, throughout the range, different arm lengths, telescopic reach, excellent visibility and agility for the operator alongside agility. Power is provided by a 173hp latest-generation John Deere high-pressure common-rail injection engine. 
The spacious two-seater cabin of the SPV, offers the edriver and passenger comfort and features a cutting-edge display system, with a 10-inch colour screen that allows the operator to manage and control all the functions of the machine in one place.
At the touch of a button, menus are navigated simply with a large ergonomic track button. A large electronic keyboard is also utilised for the main functions of the machine.

The cabin also rotates through 90 degrees to allow for cutting in both directions, helping to reduce working time and operator fatigue – important for maintaining health and safety.
The range features six models, covering a broad range of uses and awesome capabilities:
» ILF Alpha is a new high-tech hydrostatic machine that guarantees performance and multifunctionality. It can be equipped with 3 different types of arm lengths with various attachments.

» ILF Athena is a professional brushcutter machine equipped with a 15-meter telescopic arm offering unparalleled performance, great flexibility and operational safety.

» ILF Aspen is a professional brushcutter designed to operate all year round for maintaining roads or forests. It has a heavy-duty front telescopic arm extending out to 7 metres.
» ILF Kommunal is a multifunction self-propelled machine equipped with a front quick coupling system that allows the installation of multiple attachments.
» ILF R1500 is a professional cutting machine designed for the maintenance of grass and shrubs in railway environments. Operating normally on the road with its four large wheels, it is also equipped with steel railway wheels and a second assistant cabin.

» ILF 1200 & 2000 are professional hydrostatic self-propelled machines with innovative technological features and excellent performance. It represents the best solution available in the market for green maintenance.
Get to know the full ILF ALPHA SPV range now:
Find out more about the range by clicking below:
https://www.spearheadmachinery.com/machine/self-propelled/
Or contact Spearhead for more information:
https://www.spearheadmachinery.com/contact/
Or, if you would like to book a personal demo, please contact Mark Raymond, directly on the number below:
📲 Contact Mark Raymond direct on
07721 769481
to arrange your own test drive of this phenomenal new machine!