REMEMBER! Always use the right tools for the right job…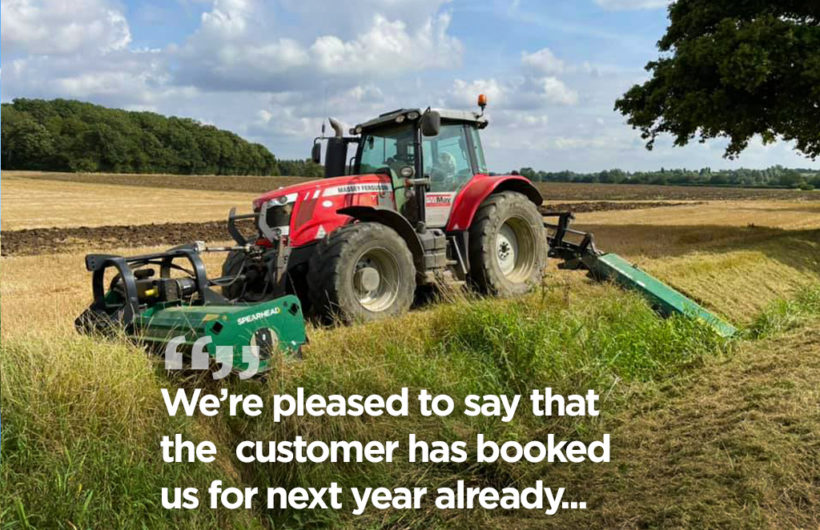 The cheapest isn't always the best…
There's an old saying that goes something like: "Always use the right tools for the right job"…
…So, it's great to see that old saying in action with our Spearhead Flail and Reach Mowers – as seen in these images here – which were kindly shared on social media, by P.W. May Contracting Ltd recently.
The guys at P.W. May went on to tell us:
Here we are flailing outfield boundaries for a new farmer client in Harlow. The previous chap used a hedge cutter, which although cheaper per hour, needed 3 – 4 passes around each field. Our Spearhead set-up meant in most fields it only needed one pass, two at the very most – saving the customer a huge amount of money. We're pleased to say that the  customer has booked us for next year already.
By using Spearhead Machinery, the guys at PW May Contracting Ltd not only…
SAVED  the customer a 'huge amount of money'.
But also guaranteed further work – meaning a 'win-win' for all involved!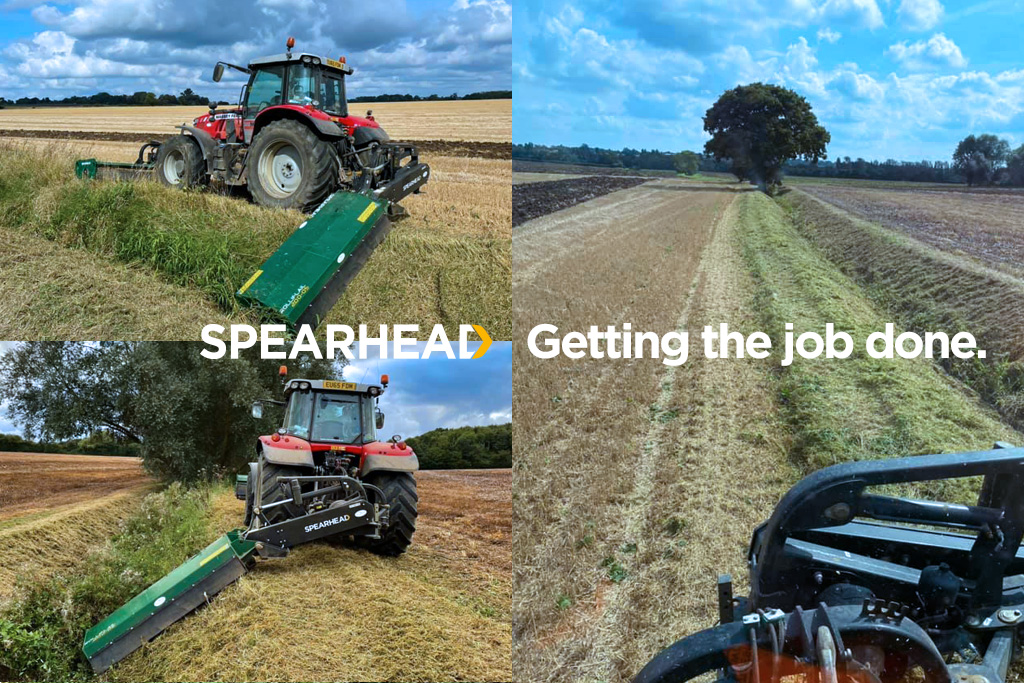 Choose Spearhead  – it's the only choice;
✅ If you're looking for the best in machinery that increases productivity, delivers a better, more cost-effective job for you and your clients and won't let you down – talk to Spearhead about that next Machinery acquisition. 
✅ If you want easy to use, long-serving and intuitive tools that provide the highest quality finish then kick the other suppliers into the long grass and talk to Spearhead today.
With you all the way – to keep you moving…
✅ No agribusiness wants to suffer downtime and its costs – which is why we also offer you a total and efficient after-sales support service. We're with you from those vital first days of operation, right through the duration of the product's lifetime, through our own dedicated Engineering, Service and Parts personnel and our professional global dealer network.
Over 30 years of British excellence
Since 1988, Spearhead Machinery has designed and manufactured a wide range of class-leading equipment, in the UK, to make large-scale mowing and mulching more efficient and is perfect for agriculture, amenity land, leisure, airfields and military sites.
British designed and manufactured – with added passion
Our Evesham production site is home to our specialist in-house design team. With an incredible focus on customer needs, they are passionate about delivering the best solutions for our wide range of customers' needs and are constantly designing, testing and developing from the ground up.
With Spearhead, reliability and class-leading Cutting Performance always come as standard.
…But our Machinery is anything but standard!
Find out more about how the Spearhead difference can help you:
https://www.spearheadmachinery.com/
Find out more about how our Spearhead support service in our owner's hub, here:
https://www.spearheadmachinery.com/ownershub/