Cut your business tax bill by up to 25p in the pound…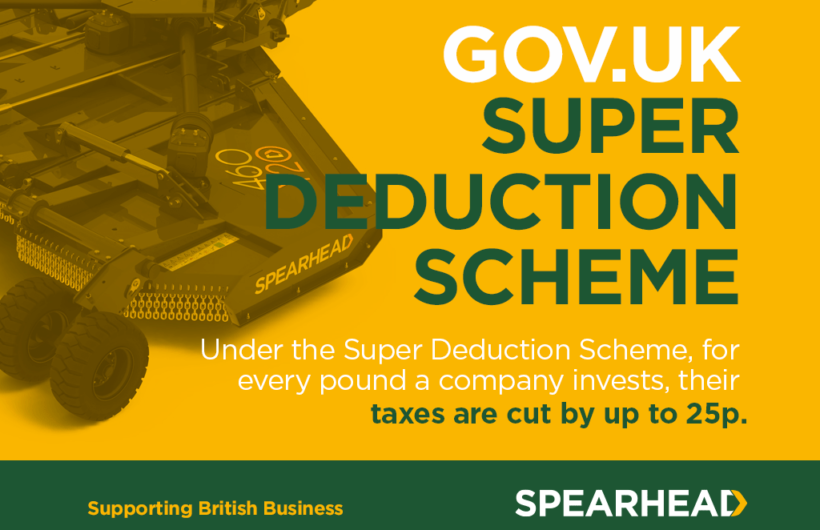 Are you aware of the 'Super-Deduction' Scheme?
You may already be aware of this new Government Scheme offering financial support for businesses during Covid. If not, it's important to know that under the 'super-deduction', for two years from 1 April 2021 any investments your business makes in main rate plant and machinery will qualify for a 130% capital allowance deduction.
This new for 2021 allowance is the most attractive tax incentive for business investment ever offered by a British government.
So, great news as it means that you may be able to cut your tax bill by up to 25p for every £1 that you invest in qualifying new Spearhead machinery!
✅ A new 130% first-year capital allowance for qualifying plant and machinery assets; and a 50% first-year allowance for qualifying special rate assets.
These allowances will be available alongside the ongoing Annual Investment Allowance (AIA) which already gives 100% relief for costs of qualifying plant and machinery in the tax year of purchase. The AIA has been set at £1m per business again for the year to 31 December 2021.
✅ So, if you're thinking of making an investment in new Vegetation Management Machinery and Equipment, now may represent the perfect time to contact our sales team…
For more details and make sure you are taking advantage of this new tax break for your next Spearhead purchase.
View the PDF from HM Treasury (below)
http://bit.ly/SuperDeductionScheme_Factsheet
https://www.gov.uk/guidance/super-deduction
---
Points to consider:
✅ For expenditure incurred from 1 April 2021 until the end of March 2023, companies can claim 130% capital allowances on qualifying plant and machinery investments.
✅ Under the super-deduction, for every pound a business or company invests, their taxes are cut by up to 25p.
✅  This change makes the UK's capital allowance regime more internationally competitive, lifting the net present value of our plant and machinery allowances from 30th in the OECD to 1st.
If you want quality and reliability from your machinery, check out the Spearhead Range – available from our official dealer network across the UK.
Find out why you should be investing in Spearhead machinery at:
https://www.spearheadmachinery.com/