Introducing the all-new Multicut 460 PRO-Line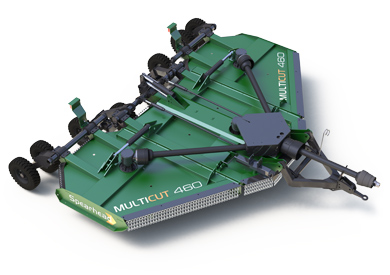 It has been almost 27 years since Spearhead designed and manufactured its very first folding rotary mower – the GS400, and the experience gained from developing rotary machines for an ever expanding market place means that Spearhead are now one of the most well-known brands in the sector.
Known in more recent years as the Multicut range, Spearhead now offers an exceptional line-up in this series, from a neat 1.6 metre machine which is very much at home topping small paddocks or orchards, to the largest working width of 8.2 meters which can frequently be seen mowing airfields up and down the country.
It is however the Multicut 460 which has proven, time and time again, to win in the popularity stakes of the discerning customer, and has been the mainstay for Spearhead's rotary range for a number of years.
Spearhead, however, are always working to improve their designs, manufacturing processes and product specifications through customer feedback and innovation, and the Multicut 460 has recently undergone some changes to make it even more appealing and better value for money.
Introducing the all-new Multicut 460 PRO-Line
The Multicut 460 Pro-Line model still comes with all the great features that Spearhead's customers expect of the standard model, but now with the benefit of these added extras to give its customers a truly outstanding rotary mower experience.
Walking Axle
Wide Wheels
6 Blade Cutting System
Stronger Body
The fully welded deck is made from 7-gauge steel and comes in a fully powder coated paint finish to give an outstanding, hard-wearing body that is tough enough to last the distance, whatever you throw at it.   The delta shaped deck promotes excellent flow from the rear of the machine for a wider spread of chopped material.
Faster Cutting
The heavy duty winged high-lift 6 blade system is designed to provide ultimate lift, suction and chopping capabilities to give an increased output to your mowing operation.   Contra-rotation of the rotors gives an evenly spread mulch for faster decomposition.
Smoother Ride
No matter how uneven the surface is, the standard walking axles take its owner for a smooth ride every time and the 8 pneumatic wide wheels promote safety, stability and control when its needed most, both on and off the road.
More Information
For more information on the Multicut PRO-Line visit our website spearheadmachinery.com or find your local Spearhead representative here