Dedicated customer support for TWIGA SPV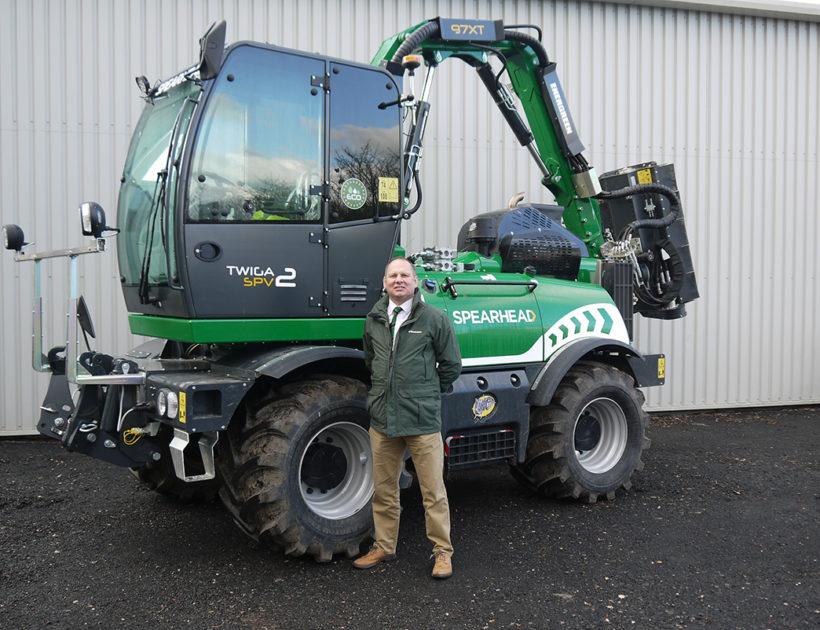 Leading the manufacture of professional mowing equipment in Europe, Spearhead has appointed Mark Raymond to specifically support the self-propelled vehicle (SPV) sector of the business. This includes the market-leading TWIGA SPV series.
As SPV Business Development Manager, Mark draws on decades of experience and technical knowledge in the construction equipment market. He's worked for names such as Terex, Bobcat, JCB, and Jungheinrich UK Ltd.
Spearhead's TWIGA SPV series is a prominent brand in the market. With good reason. Offering superior vision, tremendous flexibility and robust balance, TWIGA SPV has a proven reputation as the professional choice for all efficient watercourse maintenance. Not surprising, given its specific design for that purpose.
With reach potential ranging from 6 to 17 metres (the longest on the market), these powerful SPVs are suitable for all types of terrain – however challenging. A raft of different attachments (such as weeding baskets, flail heads and cutter bars) help to tackle many different tasks, making the TWIGA SPV series ideal for environmental, agricultural, municipal, military and airport work.
With six different TWIGA SPV models, their manoeuvrability is remarkable. Always safely counterbalanced, each one can be easily positioned and operated to make swift work of the most time-consuming jobs. You'll be looking right over your work too; such is the clarity of vision.
Want to see for yourself at your own site? Spearhead runs a demonstration machine for just that reason. Arrange a visit and Twiga SPV will be put through its paces, right in front of you. Set the challenge and let TWIGA SPV exceed your expectations.
To arrange a demonstration, call Mark on 07721 769481 or email him: mraymond@spearheadmachinery.com.
For further information contact:
Antony Prince,
Director of Sales & Marketing
Spearhead Machinery Ltd
Tel: 0044 (0) 7891 546216
Email : aprince@spearheadmachinery.com