New TWIGA Compact Debuts at SALTEX 2017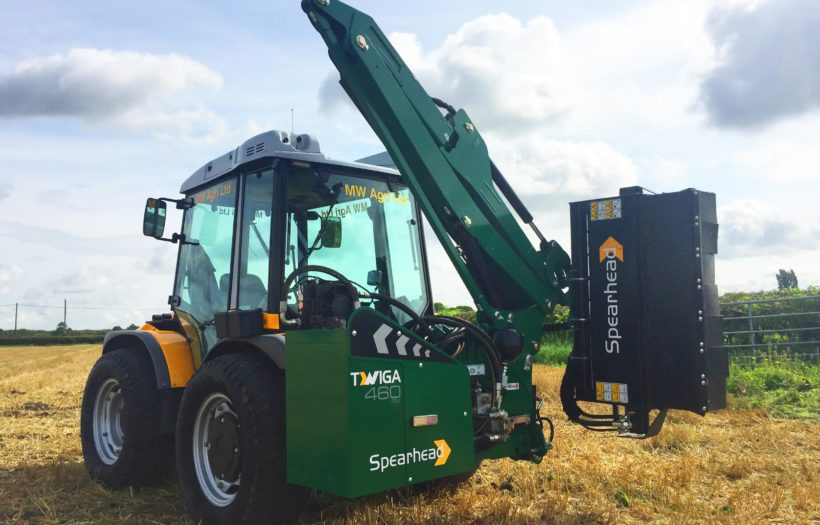 Spearhead Machinery will give the new TWIGA Compact Front Mount its first official outing to the UK public at the show this year, effectively increasing the TWIGA Compact Reach Arm series from two to four models.
Twiga Compact Design Features
The new TWIGA 360 and 460 models have been designed for front mounting to a compact tractor or utility vehicle to optimise operator visibility and flexibility from the cab, with both models now incorporating longer reach lengths to extend the working area around the machine.
Improvements to the reach arm have been made through an added offset pivot position which allows the operator to work in tighter, higher spaces giving more manoeuvrability.
Another notable new feature is the fold flat arm position bringing the machine over for a lower point of clearance to improve visibility.
With the same flexibility and agility as the original Compact Reach Arms and utilising the robust technology found in the larger TWIGA models, the new Compact Front Mount range will provide the operator with a number of potential application options, whilst still guaranteeing the capability and durability expected of Spearhead products.
Standard range features include parallel arm geometry, hydraulic safety breakout and mini-pilot controls.
Supplied with a 1.0m Flailhead or a choice of cutting attachments, the TWIGA Compact range continues to offer a high level of utilisation to the ground care operator.
SALTEX Stand Details
Spearhead Machinery will be on Stand L107 where representatives will be pleased to demonstrate the new features of the TWIGA Compact range to stand visitors
More Information
Click here for further information on the TWIGA COMPACT Range.