Spearhead Unveil New Look at LAMMA 2018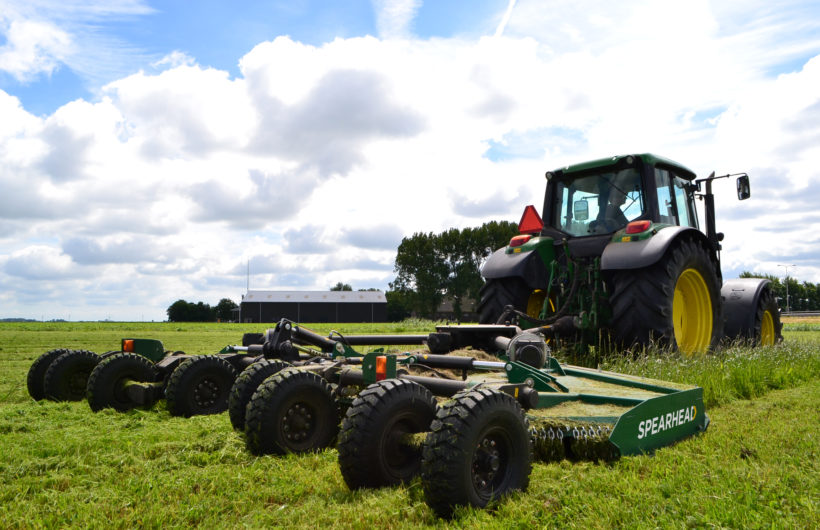 LAMMA 2018 opens with a year full of promise for Spearhead Machinery Ltd who will be unveiling their new look brand identity at the show.
Changes to both the logo and machinery colour scheme are the first phase in a wave of strategic brand improvements planned for the coming season, and coincide with the launch of several new models, including a completely revamped TWIGA hedge cutter series which is available from January.
All-New TWIGA Series
2018 heralds a complete overhaul of the established TWIGA series.
Already well renowned for its robustness, durability and ease of use, Spearhead will display several exciting new models from the popular Classic and Mid series, alongside the innovative Flex – the most geometrically advanced tractor mounted reach arm mower on the market.
Rebecca King, Marketing Manager at Spearhead advises," from next year the TWIGA range will feature a simpler naming convention, with a letter and number configuration throughout each series; the letter denoting either a Standard, Forward Reach or Telescopic arm, and a number giving the specified machine reach".
Machines on display at the Peterborough event include:
The new TWIGA Classic S55 = Standard Arm – 5.5 metre reach
The new TWIGA Mid T65 = Telescopic Arm – 6.5 metre reach
The new TWIGA Flex S67 = Standard Arm – 6.7 metre reach
The Rotary Mower Experts
Spearhead will also exhibit models from Europe's market leading rotary mower range with the classic Multicut 460 taking centre stage alongside the compact, yet exceptionally robust Multicut 300 and revolutionary Stubble Master 500 rotary mulcher.
These versatile rotary mowers build on a rich heritage of over 25 years of design, development and innovation, bringing about the most durable and reliable machines of their type found on the market today.
With the excellent high-lift blade featured across all models and a host of cutting systems and arrangements, Spearhead can confidently offer the professional operator a truly exceptional and value-for-money experience in grass, stubble and scrub land maintenance.
Stubble Master Series
On stand at LAMMA will be the Stubble Master 500, a further model sporting new livery and a host of industry leading features that allow the visitor the opportunity to fully appreciate the story of how this mulcher has been designed to make the cropping cycle more efficient and cost effective.
The ultimate aspect of the machine is the Stubble Master's blade system which is capable of mulching leftover stubble in to small debris particles, thus aiding faster decomposition in to the soil through the encouragement of worm activity.
The mulched debris can also give protection to the soil surface, and these combined actions ultimately result in an overall improvement to the soil structure itself.
Stand Details
The Spearhead Machinery stand can be found in Hall 1 Stand No. 114 where Spearhead representatives will be available to take visitors through the new TWIGA configurations and rotary mower ranges.
For visitor information on LAMMA '18 visit http://www.lammashow.com