Spearhead Ireland Dealers Visit Spearhead Production Facility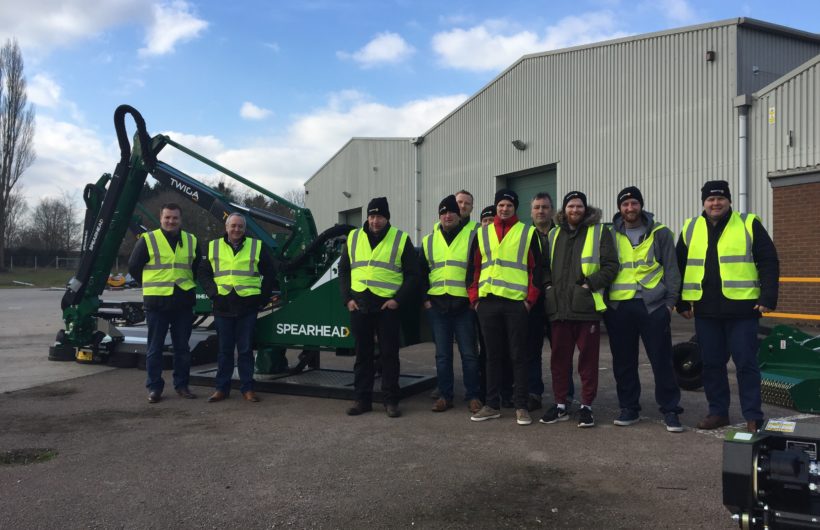 Travelling from across Northern Ireland and the Irish Republic to the Spearhead Headquarters last Friday (23rd February), were dealer representatives from the Spearhead Ireland network.
The dealer representatives visited the Worcestershire based manufacturer to take a first-hand look at the all-new 2018 product line-up, discuss 2018 marketing plans, and at the same time take in a full tour of the specialist manufacturing facility where Spearhead's heavy- duty hedge cutters, rotary, flail and amenity mower ranges are designed and built.
Laurence McMullan, from Spearhead's appointed Irish Distributor H Fulton Tractors said "We invited staff from across our Spearhead Ireland network to come along to the factory and experience the manufacturing plant in full production, from welding through to assembly, testing and quality control, following the production lines right through to pre-delivery inspection. It was a highly successful trip which allowed the dealers to see all the different production processes coming together to produce a high-quality, ready-for-sale machine".
Antony Prince, Director of Sales & Marketing added "After significant changes in our Irish Dealer network just over two years ago it was great to bring the new team across to review the fantastic progress to date, plan together for 2018 and also provide the opportunity to witness machines being manufactured. I hope that they all took away with them a positive experience that they can now share with their customers within their own dealer territories."
Since 2015 Spearhead has focused on rearranging their dealer network throughout Ireland. Headed up by H. Fulton Tractors the network has been trimmed in size which has presented a more focused and specialized sales network with sales in Ireland trebling throughout 2016 and 2017.
Darrell Walmsley, visiting with Fermanagh dealership Walmsley Tractors added, "We joined the Spearhead Ireland dealer network at the beginning of 2016 and have seen fantastic sales growth in our area. Further potential for sales development is apparent following today's visit and the launch of the 2018 machinery range means we look forward to another positive season of activity in 2018."
During 2018 Spearhead will again be present at a number of local industry exhibitions in Ireland, with significant stand presence at the major Balmoral and NPA Shows in May and September respectively.
For a full list of the Spearhead Ireland Dealer representatives visit the Spearhead Ireland website.