H. Fulton Tractors win Agri Machinery Trade News Award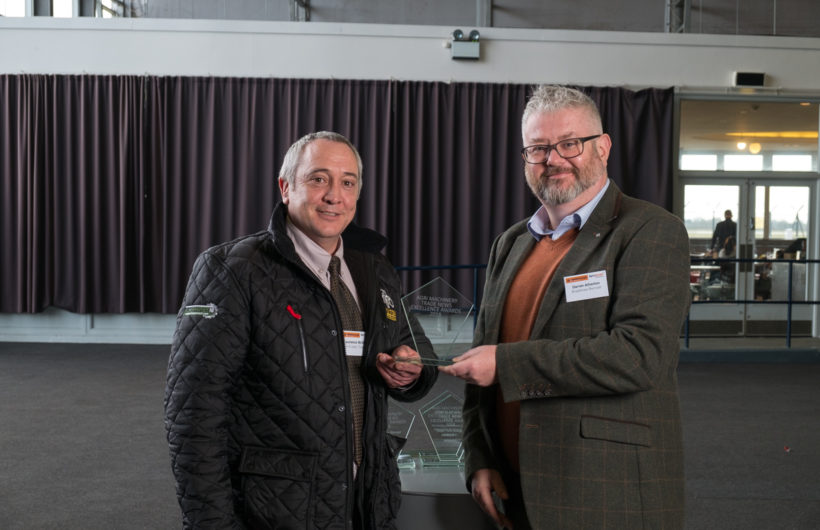 A top-performing team member at H. Fulton Tractors has helped put the Dungiven company on the map by becoming the first person from Ireland, North or South to win an Agri Machinery Trade News award.
Laurence McMullan was presented with Dealer Sales Manager of the Year Award at the Agri Machinery Trade News Excellence Awards in Manchester last Friday.
The Agri Machinery Trade News awards were created to recognise and reward excellence by people in the farm machinery trade, with voting having taken place between October and December last year.
The farm machinery trade were encouraged to vote on-line for their suppliers, their colleagues and team members whom they felt had given outstanding service throughout the year in their roles.
Laurence was delighted to receive his award which was said to be in recognition of his ""grabbing hold of sales management at the company and taking organisation and professionalism to the next level".
He was also given credit for the work he does with the brands represented by H Fulton Tractors, including Spearhead Machinery, McCormick and Schaffer.
One voter commented: "The team at H Fulton Tractors is continually growing, and Laurence's impact can be seen not only in sales, but also the marketing, parts and service departments too."
Howard Fulton, Managing Director of H Fulton Tractors, said the whole company were "delighted" for Laurence. "He puts a lot of time and effort into his work," Howard commented. "Being a progressive company, this shows that the hard work of all of the team is certainly paying off and is being noted by those who voted for Laurence in this prestigious award".
Paul Caunce, awards organiser and outgoing publisher of Agri Machinery Trade News, said: "Business is, and always will be about people. You can have the best product in the world, but it is nothing without people. "I was fed up with the glory and recognition in the sector going predominantly to pieces of metal and decided to create the trade excellence awards in 2017 to put that right."
He added: "To see first-hand what it means for people to be recognised for the hard work, dedication and professionalism they have is truly heart-warming."
Laurence is pictured with Darren Atherton of Bradshaw Bennett Agri Dealer Insurance.