Red Dragon Multicut Steals the Show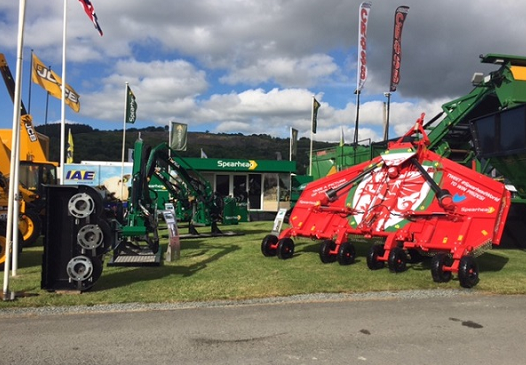 Speahead's final show event of the summer ended on a high with a display of machines that were quite literally the envy of the machine avenue at the Royal Welsh Show!
Taking their place at the Royal Welsh Showground in Llanelwedd, Spearhead Machinery displayed a large array of their product range including a one-off special edition – a bright red Multicut 460 – that proudly wore the national emblem of Wales.
Emblazoned with the challenge to "tweet a picture to win a prize", the machine attracted much attention from visitors, young and old, creating social media interest throughout the 4 days of the show.
Sales & Marketing Director, Antony Prince who attended the show commented "It really was one of those off-the-cuff ideas that became the real star of the show.  With the help of our placement student Design Engineer, James Winters (who designed the decals for the machine) we pulled off a real crowd pleaser".
Following a hugely successful few days for the Spearhead team, reluctantly, the Red Dragon Multicut was left in Wales where it will be staying for the foreseeable future.
Sold through local Spearhead dealer, Teme Valley Tractors in Knighton, the bright red machine can be spotted mowing the fields around Rhayader, Powys where its new owner, Jake Powell resides.
With a machine that distinctive you surely won't miss it!
For more information on the Multicut Series please visit https://www.spearheadmachinery.com/machinery-category/rotary-mowers/