Success for Spearhead at the National Ploughing Championships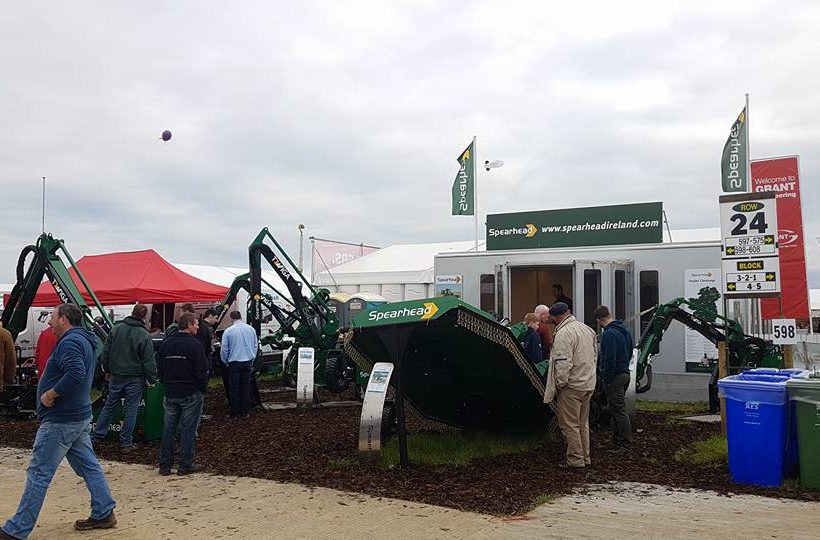 The 2016 National Ploughing Championships was held this year in Tullamore, County Offaly, Ireland. It continues to be the largest event in Ireland's farming calendar with this year attracting a record breaking 283,000 visitors over the three days from the 20th -22nd of September.
Spearhead Ireland exhibited six machines this year at the National Ploughing Championships and the response to the range on show was fantastic.
Howard Fulton, Irish Distributor for Spearhead said, "The customers who visited the stand were very impressed with the range of machinery on show and were pleased to see the build quality of the machines up close. It was great to speak to people on the ground and being able to explain the benefits of choosing a Spearhead, people were saying it was great to see Spearhead in attendance at the show for the 2nd year running and we received a good positive response from current owners as well as prospective buyers, in fact, we sold 4 machines over the 3 days of the show".
Spearhead in Ireland
Spearhead have been building a dealership network covering the entire island of Ireland over the last 15 months under the guidance of H Fulton Tractors, Dungiven. They now have a network of 14 dealers covering the 32 counties of Ireland.
Spearhead's traditional and core business is centred around the maintenance of green areas with the most extensive range of rotary, flail, amenity and reach mowers available in the green area maintenance sector. Wherever vegetation may grow Spearhead offers viable solutions to match your environment's most demanding requirements.
Spearhead Ireland Marketing Manager, Peter McMullan said, "Irish customers for hedgecutting machinery and mowers want high performance, reliability, ease of operation and toughness, which are all highlights of Spearhead machinery. They want to know they are buying a great quality machine, as well as having the backup with a great network of dealers. We are working very hard to get this right in Ireland and I believe this is what the Irish customer wants. It was a fantastic show with people travelling from all areas of the country and it was great to once again showcase these great machines to the public and to answer questions and give advice on the right machine for each individual customer".
For enquiries relating to Spearhead products or to find your local Spearhead dealer visit https://www.spearheadireland.com/ or email enquiries@spearheadireland.com.