Twiga 420 Lands In Thailand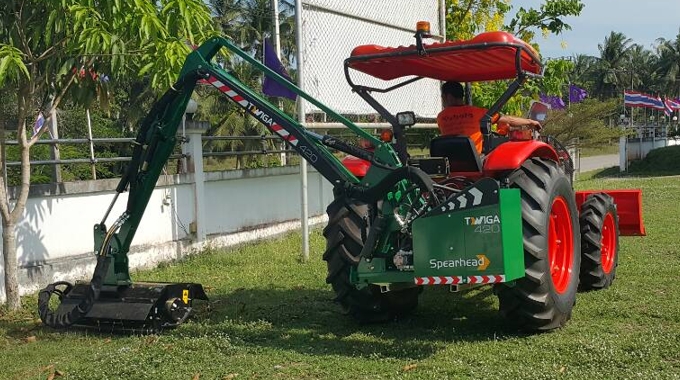 Spearhead Machinery's Thai distributor Mangkang Kurupan Service Co. Ltd have recently installed a Twiga 420 in Southern Thailand. This 4.2m machine was delivered to Sai Thong sub-district Administrative Organisation for the maintenance and upkeep of their area.
Siphakorn from Mangkang Kurupan Service Co. Ltd explained, 'The Twiga 420 was purchased for its build quality, reliability and performance. Other important factors that had to be considered included ease of use and maintenance for the operators and district's maintenance team'.
Mark Bayliss, Spearhead Export Regional Sales Manager, commented 'The Twiga Compact series are well known amongst the amenity sector so when Siphakorn first contacted us about a new Twiga 420 we knew this machine definitely met the requirements of the end user'.
The Twiga 420 comes with the following features as standard:
4.20m reach
Three point linkage mounting
Parallel arm geometry
Totally independent hydraulic system
60 litre oil capacity
0.90m flailhead
For further information on the Twiga Range please contact your Spearhead Area Sales Manager:
Jim Campbell, Northern England and Scotland – 07969 845870
Dan Mallard, Western England and Wales – 07831 495774
James Brown, East and South East England – 07866 491623
Mark Bayliss, Export – +44 (0)7817 136992