A great few days out at the Ripon Farm Services New Years show…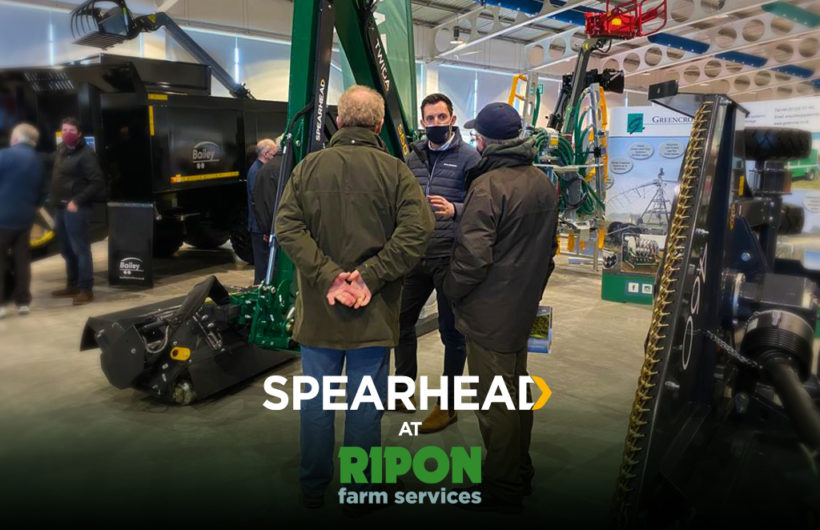 Spearhead continue to support the industry, with our attendance at this year's 'big kick off' – The Ripon Farm Services New Year Show.

Thanks to the whole team at Ripon Farm Services Ltd for inviting us to attend the show and their hospitality and professionalism in providing a great industry show – as always! 
So, after the uncertainty and disruption of the last few years, it was good to once again be out in the industry supporting our dealers and providing support to this well-attended show.

Richard Simpson, commercial director of Ripon Farm Services, explained:

"We thought long and hard about whether to go ahead with this year's show, in view of the continued challenges posed by coronavirus, but in the end, we believe the farming community needs – and deserves – our support.
…and we're certainly glad they went ahead! The show has always provided an amazing start to the year and has come to be renowned as one of the key events in the northern agricultural calendar – held this year at the Harrogate showground on the 19th and 20th of January.
This year marked the 40th Anniversary for Ripon Farm Services after the show was canceled last year, due to the pandemic.
Showing up and showing off…
Spearhead Team members Jack Norton and Antony Prince were in attendance at the show, welcoming visitors to the Spearhead display and discussing the many benefits of the machines on display –  the TWIGA S60 Classic hedge cutter and the recently launched Multicut 460 Y20 Special Edition rotary mower.

Perfect for Farmers, contractors, and local authorities…
The TWIGA S60 continues to offer the best combination of specification and value for money on the market and is perfect for farmers, contractors, and local authorities – with the options of a diverse range of attachments available – so we thought the Ripon show would be a great opportunity to once again show off its capabilities and Precise control – through Spearhead's Pilot Hydraulic Proportional Control System and all-day operator comfort – given as standard.
Upgraded and improved…
Also on display at the show was our Spearhead MultiCut 460 Y20 special edition, a proven to be popular update of the Multicut 460 that was launched in 2020 – celebrating 20 years of Europe's leading Flex-Wing Rotary Mower. 
Loaded with many upgraded and improved features the Y20 special edition has been a popular choice amongst farmers and contractors who require reliability and performance in their cutting and stubble management – and the team saw a lot of interest at the show in both machines on display as well as talking through the full range of the current Spearhead catalogue.
Two of our Multicut 460 Proline rotary mowers were also sold across the two days by the team as they discussed the many benefits, as well as service and support offered across the whole Spearhead range.
Find out more about the TWIGA S60 Classic Hedge Cutter:
https://www.spearheadmachinery.com/machine/new-twiga-classic/

Find out more about the MultiCut 460 Y20 special edition rotary mower:
https://www.spearheadmachinery.com/machine/multicut-460-y20-special-edition/