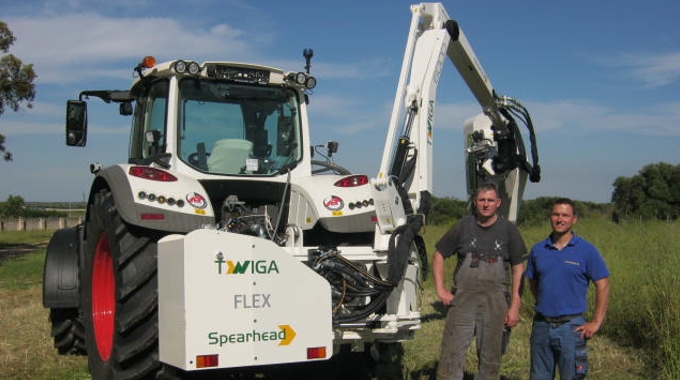 The Nardo Technical Centre in Apulia, Southern Italy is one of the most famous automotive test tracks in the world.
Managed since May 2012 by the prestige car marque, Porsche, the circular track is some 12.6 kilometres long and 4 kilometres in diameter, furthermore the characteristics of the track mean that whilst you are actually driving in a circle, the inclination of the track coupled with the centrifugal force means that it feels like you are driving in a straight line even at speeds of 240 km/h.
Besides the impressive ring track, the Nardo Technical centre also offers numerous other test tracks and facilities all of which are now kept in pristine condition with the help of a special edition "white" Twiga Flex fitted to a special edition "white" Fendt tractor.
The machine was supplied by Spearhead's Central European distribution partner Green-tec A/S, who also specified a range of attachments including flailheads, cutterbars and rotary heads, complimenting the machine and allowing Porsche to take care of all of their vegetation maintenance tasks on the site.
Sales Director at Green-tec A/S, John Christensen advised; "It is fantastic for Spearhead to be associated with such a prestigious automotive manufacturer. As a premium brand it really is great that Porsche has recognised the quality that we can offer. This is further highlighted by their choice of the high specification Flex, confirming that even down to the machinery they use on their sites they are also selecting top of the range equipment.
The Twiga Flex is Spearhead's class leading reach mower with a range of arm-sets extending from 5.0 through to 8.9 metres reach. Named due to its versatility the machine is able to operate in both directions meaning that output is greatly increased. The machine also includes one of the most potent hydraulic systems in its sector and Spearhead's highest specification Propilot Control System.