Reach the perfect finish with the TWIGA Pro Flex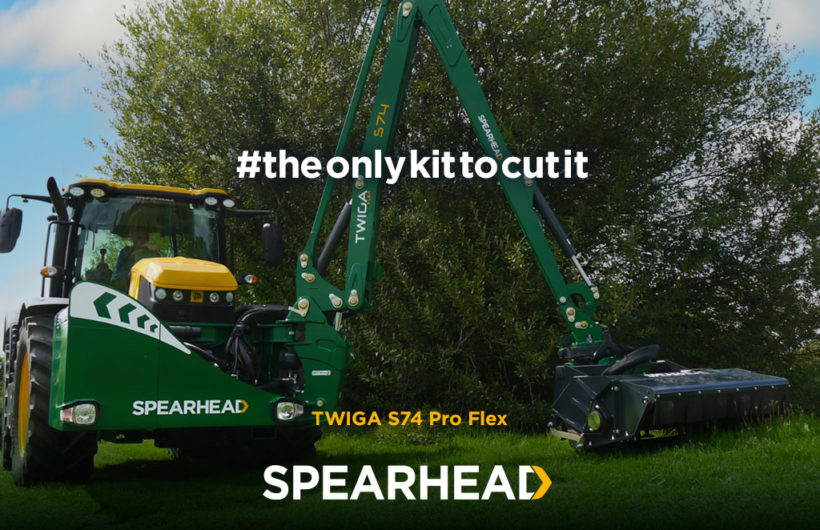 WHEN YOU NEED TO REACH THE PERFECT FINISH
…Reach for the Spearhead TWIGA Pro Flex S74…
Designed specifically for demanding professional operators requiring the most power, performance and productivity, Spearhead's flagship Twiga Flex range of Reach Mowers provide the most versatile and high-output machines on the market.
FOR ALL PROFESSIONAL ENVIRONMENTS
Whether you operate in an agricultural or municipal environment, Spearhead Machinery sets the standard in professional reach mowing and hedge cutting solutions.
The Spearhead TWIGA Pro Flex range is the perfect professional partner for:
✅ Agriculture
✅ Amenity
✅ Airfield
✅ Highways
The whole Twiga range has been designed to offer outstanding reliability, long life, and intuitive usability for the modern operator.
The Spearhead TWIGA Pro Flex range offers a diverse range of attachments – for ditch mowing and hedge cutting – to ensure maximum usability and cost-effectiveness, helping your business to remain profitable and in-demand.

POWER. CONTROL. COMFORT.
All of this power and precision is controlled through Spearhead's 85hp fully independent system and flagship, state-of-the-art Propilot Electric Proportional Control System. 
This system creates the ultimate in user comfort and visibility for the most demanding of today's working environments and arrives standard on all Twiga Flex models. 
Benefitting from additional functionality on the joystick, Propilot offers the ultimate in all-day comfort and control to the professional operator in an easy-to-use package.

Propilot electric proportional controls:
✅ Precision control Compact design 
✅ Professional comfort armrest 
✅ Electric rotor control 
✅ Secondary telescopic and head angle buttons for additional 'Flex' functions
We understand the 'pain points' that professional industry users can experience with their demanding daily usage of machinery. This is why we understand that you want quality, long-life, reliability, and cost-effectiveness from your machinery.
The TWIGA Flex range also offers a wide range of cutting attachments available for maximum day-to-day usability, including:
✅ Flail heads 
✅ Cutter bars
✅ Saw blades
✅ Rotary head
✅ Rotary ditch cleaner
The Spearhead FLEX range of professional reach mowers has a huge range of modern features including:
✅ Fully seam welded
✅ A range of reaches between 5.8ma and 8.9m
✅ Fully independent 85HP hydraulic system
✅ Can be front or reverse mounted
✅ Oil killed
✅ 140-degree variable forward and rearward reach
✅ Telescopic extension options
---
Find out more about the TWIGA Pro Flex range here:
https://www.spearheadmachinery.com/machine/new-twiga-classic/
You can also download a comprehensive PDF brochure on the complete TWIGA range here:
https://www.spearheadmachinery.com/download/5660
---
Check out the Spearhead Twiga Flex range – available from our dedicated dealer network across the UK. 
Spearhead offers one of the most extensive fleets of reach mowers available anywhere in the world today.
Get in touch today!
To learn more about the TWIGA Pro Flex range, contact Spearhead on 0044 (0) 1789 491860 or email enquiries@spearheadmachinery.com.