Spearhead Ireland To Show Twiga at National Ploughing Championships 2016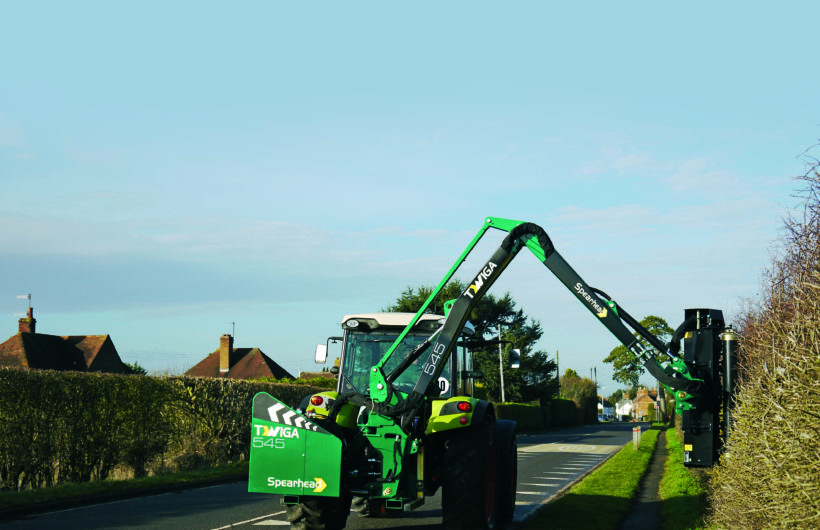 2016 will see Spearhead Machinery Ltd exhibiting at the National Ploughing Championships alongside its newly created Irish Dealer Network, Spearhead Ireland.
With an ever increasing network of dealers across the country who are revving up to support the product range,  Spearhead will be showcasing  a number of reach, rotary and flail mowers – including several models within the Twiga Mid series – to whet the appetite of the Ploughing Championship visitor.
TWIGA MID SERIES
Combining many years of hedgecutter design with the latest technology, Spearhead's best-selling, Twiga Mid series reach mower provides exceptional performance, reliability, durability and ease of operation.
Power is delivered by a potent 75hp fully independent hydraulic system favoured by the most demanding of cutting professionals.
The machine is available with sideways reach options of 5.5, 6.0, 6.5 and 7.0 metres with rear mounting as standard. The 5.5 and 6.0 metre options can be delivered with a forward reach arm set for improved visibility, whilst the 6.5 and 7.0 metre versions are both telescopic as standard.
Presented with the possibility to be fitted with a multitude of attachments and available with a quick attach coupling system for ease of exchange the Twiga Mid series is action packed with power and performance.
A choice of Precision Proportional, Multipilot and Propilot controls give a huge choice of operating systems which allow fingertip action of the arm and head movements to deliver precise control and exemplary operator comfort throughout the working day.  Parallel arm action is fitted as standard and makes the Twiga Mid series simple to use as the arm geometry maintains the same cutting head angle as it moves in and out.
Safety protection is offered in the form of a hydraulic break out ram which when activated lifts the cutting head clear of obstructions and automatically returns it once the obstruction has been cleared.
Designed for large scale farmers, contractors and local authorities – the Twiga Mid range offers, a host of customisation options, Spearhead's most advanced control systems and long term output, robustness and durability time honed and proven in conditions around the world.
MULTICUT 300
Alongside the Twiga Reach Mowers will be the ever popular Multicut 300, Spearhead's market leading rotary topper which is of extremely robust construction and designed specifically for the rigorous conditions of set a side, general mowing, scrub and gorse clearance.
Featuring twin rotors with massive double blade holders and beastly 13mm thick spring steel blades, the Mulitcut 300 is capable of cutting and mulching material up to 80mm thick.
Shaft driven throughout, the machine is especially suited to continuous and rigorous use where less substantial machines fail.
HC 130 AND HC160 ROTARY HEAD
Spearhead will also present a new concept in hedgecutting during the show, the new HC130 and HC160 rotary heads.
Suitable for cutting and shredding hedges, the machines deliver improved cutting results, less debris and improved efficiency for professional operators.
Featuring a blade system consisting of 18 special hardened blades mounted on three rotors the machine delivers an exemplary finish in material up to 40mm thick.
The National Ploughing Championships takes place from the 20th – 22nd September in Screggan, Tullamore, Co. Offaly and will feature Spearheads strongest presence yet.
MORE INFORMATION
Spearhead Ireland will be located on stand 598, Block 4, Row 24.
To find out more about the product range on offer visit Spearhead Ireland or contact H. Fulton Tractors on +44 (0)28 7774 1704.