Two new Multicut 'flat tops' at this year's Agromek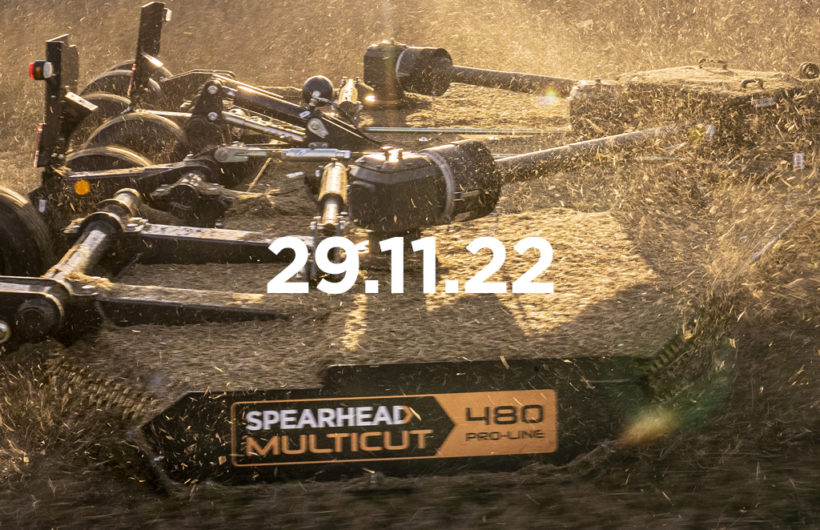 We will be unveiling two brand new Multicut Machines at this year's Agromek Exhibition, running from 29th November to 2nd December, alongside our professional partner Danish Agro Machinery.
Agromek is Northern Europe's largest joint agricultural fair held at the MCH Messecenter Herning.
You wanted a 'flat top', we listened, now you've got not one, but two…
The new Multicut 480 and Multicut 650 are the first models to incorporate a flat top skin – we know this will be welcome news for Spearhead loyalists – as we are constantly listening to feedback from our customer base who work with our machinery, daily, out in the field.
Whilst all our Multicut models ensure high performance with a flat underside, we know that our customers have been calling for a flat top. The new Multicut 480 (replacing the 460) and Multicut 650 (replacing the 620) have been updated and improved, and will deliver exactly this as part of the many new improvements.
Flat top benefits are twofold. With an entirely level deck, debris continually blows off the mower, leaving little to sweep off – thus reducing downtime in the field. Plus, free of build-up, unwanted seeds don't transfer to other crops, improving quality of finish and spread.
Entry-level and professional models available…
We have always believed in delivering machinery that caters to all sectors of the industry – and providing specification choice, both the 480 and 650 have an Ecoline and a Proline version to deliver credible options to users – including those requiring robust performance alongside additional output capability. 
Ecoline suits less intense usage, such as grass topping. Finished in Spearhead green, these Multicuts have standard wheels, fixed axles, and three blades per rotor.
Designed for tougher environments or more intense use, dark grey Proline Multicuts offer a higher specification. This includes wide wheels, walking axles, and Hydragas suspension – all ensuring a more stable performance on rough ground. Proline also includes Spearhead's award-winning six-blade Starcut Knife system. This achieves faster cutting and a smaller mulch that breaks down quickly.
Popular for stubble management, Proline Multicuts also suit those mulching cover crops for sustainable green manuring schemes.
Antony Prince, Director of Sales and Marketing at Spearhead:
"The launch of these new Multicut models – complete with flat top skins and the best possible gearbox warranty – demonstrates our commitment to relentlessly lead the market for quality, performance built flex-wing rotary mowers. 

Central for us is collaborating with our customers. They constantly highlight specific developments that could make their lives easier and get the job done faster. Focusing on the most effective improvements creates a winning situation for Spearhead and all those who choose our machinery."
Same tough gearbox (and 7-year warranty)
True to Multicut strength, the new 480 and 650 house the sturdy EZ165 (165HP) gearbox. Delivering 30% more power than competitive gearboxes, these key components now run cooler and are boosted by oversized shafts and gears.
Meanwhile, lower seal protection minimises the risk of ingress from debris, whilst an industry-leading 7-year warranty comes as standard.
NEW Spearhead Multicut 480 Pro-line
NEW Spearhead Multicut 650 Pro-line